Posts for: October, 2014
By Rockdale Dental Associates
October 24, 2014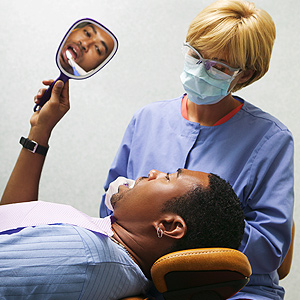 Every good oral hygiene regimen has two parts — the part you do (brushing and flossing) and the part we do (professional cleanings and checkups).
But what's involved with "professional cleanings" — and why do we perform it? The "why" is pretty straightforward — we're removing plaque and calculus. Plaque is a thin film of bacteria and food remnant that adheres to tooth surfaces and is the main culprit in dental disease. Calculus (tartar) is calcified plaque that occurs over time as the minerals in saliva are deposited in bacterial plaque. It isn't possible for you to remove calculus regardless of your efforts or hygiene efficiency. Ample research has shown that calculus forms even in germ-free animals during research studies, so regular cleanings are a must to keep you healthy.
The "what" depends on your mouth's state of health and your particular needs. The following are some techniques we may use to clean your teeth and help you achieve and maintain healthy teeth and gums.
Scaling. This is a general term for techniques to manually remove plaque and calculus from tooth surfaces. Scaling typically encompasses two approaches: instruments specially designed to remove plaque and calculus by hand; or ultrasonic equipment that uses vibration to loosen and remove plaque and calculus, followed by flushing with water and/or medicaments. Scaling can be used for coronal maintenance (the visible surfaces above the gum line) or periodontal (below the gum line).
Root planing. Similar to scaling, this is a more in-depth technique for patients with periodontal disease to remove plaque and calculus far below the gum line. It literally means to "plane" away built up layers of plaque and calculus from the root surfaces. This technique may employ hand instruments, or an ultrasonic application and flushing followed by hand instruments to remove any remaining plaque and calculus.
Polishing. This is an additional procedure performed on the teeth of patients who exhibit good oral health, and what you most associate with that "squeaky clean" feeling afterward. It's often performed after scaling to help smooth the surface of the teeth, using a rubber polishing cup that holds a polishing paste and is applied with a motorized device. Polishing, though, isn't merely a cosmetic technique, but also a preventative measure to remove plaque and staining from teeth — a part of an overall approach known as "prophylaxis," originating from the Greek "to guard or prevent beforehand."
If you would like more information on teeth cleaning and plaque removal, please contact us or schedule an appointment for a consultation. You can also learn more about this topic by reading the Dear Doctor magazine article "Teeth Polishing."
By Rockdale Dental Associates
October 09, 2014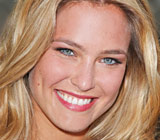 Let's say you happen to be sitting on a plane next to supermodel Bar Refaeli, who was recently voted #1 on Maxim magazine's Hot 100 list. You're a little nervous, but you want to make a good impression. What's the first thing she's going to look at? Your expensive suit? Your sculpted torso? How about — your smile!
"Teeth are the first thing I look at," explained the glamorous cover girl in a Maxim interview. "A nice smile with beautiful teeth is the most attractive thing."
We wholeheartedly agree. But, of course, not everyone is lucky enough to be born with a perfect set of teeth. What to do then?
"Let's just say that with today's orthodontists, I don't understand why people wouldn't fix them," Refaeli stated. Need we say more?
The Israeli supermodel, who has appeared in several Sports Illustrated swimsuit issues, knows what she's talking about. Refaeli started modeling as a young child, but had to put her career on hold for a few years while she got braces. When they came off, at age 11, she began her steady climb to the top of the modeling business.
Plenty of aspiring actors and models — as well as regular folks — get braces as children. But if you're serious about improving your smile, it's never too late to have orthodontic treatment. For adults, there are many options available in addition to the standard metal appliances.
Colorless ceramic braces offer a less noticeable way to correct misaligned teeth. Made of high-tech materials that resist staining, their translucent appearance blends so well with the look of your natural teeth that it can be hard to tell you're wearing them.
Clear aligners are an alternative to braces that are worn 20-22 hours per day. They consist of a series of precision-made, transparent "trays" that gradually straighten your teeth over a period of time. Best of all, you can remove them for special occasions — like meeting a supermodel.
Which type of orthodontic treatment is best for you? Why not come in for a consultation and find out! Working together, we can evaluate your situation and develop an effective, individualized treatment plan that fits your lifestyle.
If you have questions about orthodontic treatment, please contact us or schedule an appointment for a consultation. You can learn more in the Dear Doctor magazine article "Orthodontics For The Older Adult."
Rockdale Dental Associates
Lisa M. Carvalho, DMD
499 Rockdale Ave
New Bedford
,
MA
02740
(508) 992-4608
| | |
| --- | --- |
| Monday: | 8am - 5pm |
| Tuesday: | 7am - 5pm |
| Thursday: | 8am - 5pm |
| Friday: | 7am - 5pm |