Posts for: January, 2015
By Rockdale Dental Associates
January 28, 2015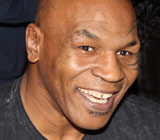 Mike Tyson's gap-toothed smile is part of athlete-turned-celebrity's signature look. During his two-decade career as a professional boxer, the former heavyweight champion has been known for both giving — and occasionally receiving — knockout punches. But the story of how he lost one set of front teeth is a bit more unusual.
In a recent interview with the Las Vegas Review Journal, Tyson's wife Kiki stated that one of the champ's major dental dilemmas didn't come from blows inside the ring. In fact, she said, Tyson lost the teeth after being head-butted by his pet tiger, Kenya.
It's too bad Tyson wasn't wearing a mouthguard before he decided to play with kitty.
Fight fans know that boxers always put in a mouthguard before they enter the ring. But the pugilistic pursuit is just one among the two-dozen-odd sports for which the American Dental Association recommends the use of custom mouthguards. Others include baseball, skateboarding, surfing and bicycling. (Maybe horsing around with tigers should be added to the list!)
Why is it so important for participants in athletic activities to use this piece of protective gear? According to the U.S. Centers for Disease Control, sports-related dental injuries account for over 600,000 emergency-room visits each year. Many of these injuries require further dental treatment; some may lead to tooth loss and require costly replacement. Not wearing a mouthguard makes an athlete 60 times more likely to sustain harm to the teeth, according to the American Dental Association. So there's really no contest.
You can find basic, off-the-shelf mouthguards in limited sizes at many sporting goods stores. But for a reasonable cost, we can provide you with a properly fitted dental appliance that's custom-made just for you. Starting with a precise model of your teeth, individual mouthguards are crafted from impact-resistant materials which are designed to be strong, comfortable, resilient — and effective.
Research shows that custom-made mouthguards offer superior quality and protection. So if you or your loved ones like to get out on the playing field, don't neglect this important piece of sporting equipment. And watch out for the cat.
If you have questions about mouthguards, please contact us or schedule an appointment for a consultation. You can learn more in the Dear Doctor magazine article "Athletic Mouthguards."
By Rockdale Dental Associates
January 13, 2015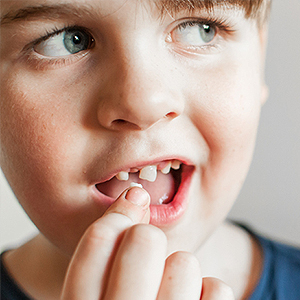 Ah, the baby teeth: those cute little pearl buttons that start to appear in a child's mouth at around 6 to 9 months of age. Like pacifiers and bedtime stories, they'll be gone before you know it — the last usually disappear by age 10-13. So if the dentist tells you that your young child needs a root canal, you might wonder why — isn't that tooth going to be lost anyway?
The answer is yes, it is — but while it's here, it has some important roles to play in your child's development. For one thing, baby teeth perform the same functions in kids as they do in adults: Namely, they enable us to chew, bite, and speak properly. The primary teeth also have a valuable social purpose: they allow us to smile properly. If a baby tooth is lost prematurely at age 6, the child may suffer detrimental effects for five years or more — and that's a long time for someone so young!
Even more important, baby teeth have a critical function in the developing mouth and jaw: Each one holds a space open for the permanent tooth that will eventually replace it — and it doesn't "let go" until the new tooth is ready to come in. If a primary (baby) tooth is lost too soon, other teeth adjacent to the opening may drift into the empty space. This often means that the permanent teeth may erupt (emerge above the gum line) in the wrong place — or sometimes, not at all.
The condition that occurs when teeth aren't in their proper positions is called malocclusion ("mal" – bad; "occlusion" – bite). It can cause problems with eating and speaking, and often results in a less-than-perfect-looking smile. It's the primary reason why kids get orthodontic treatment — which can be expensive and time-consuming. So it makes sense to try and save baby teeth whenever possible.
Procedures like a root canal — or the similar but less-invasive pulpotomy — are often effective at preserving a baby tooth that would otherwise be lost. But if it isn't possible to save the tooth, an appliance called a space maintainer may help. This is a small metal appliance that is attached to one tooth; its purpose is to keep a space open where the permanent tooth can come in.
If your child is facing the premature loss of a primary tooth, we will be sure to discuss all the options with you. It may turn out that preserving the tooth is the most cost-effective alternative in the long run. If you have questions about your child's baby teeth, please contact us or schedule an appointment for a consultation.
Rockdale Dental Associates
Lisa M. Carvalho, DMD
499 Rockdale Ave
New Bedford
,
MA
02740
(508) 992-4608
| | |
| --- | --- |
| Monday: | 8am - 5pm |
| Tuesday: | 7am - 5pm |
| Thursday: | 8am - 5pm |
| Friday: | 7am - 5pm |