Posts for tag: medication
By Rockdale Dental Associates
November 19, 2014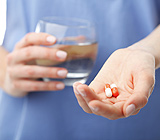 One of the possible side effects of dental work is the introduction of oral bacteria into the bloodstream, a condition known as bacteremia. Although not unusual — it can also occur when you eat or brush your teeth — bacteremia could trigger a dangerous infection for some patients.
For many years, we in the dental profession have taken extra precautions with two such categories of patients: those with congenital ("at birth") heart conditions who are more susceptible to infective endocarditis, a life-threatening infection of the heart lining or heart valves; and patients who've undergone joint replacements and are at a higher risk of developing blood-borne infections at the replacement site. It's been a standard practice for many years to administer antibiotics to patients in these two categories sometime before they undergo a dental procedure as a way of curtailing the effects of any resulting bacteremia.
Recently, however, the guidelines for antibiotic pretreatment for dental work have changed as two major medical associations have revised their recommendations on the procedure. The American Heart Association (AHA) now recommends dentists administer antibiotic pretreatment only to heart patients with a history of endocarditis, artificial valves or repairs with artificial material, heart transplants with abnormal heart valve function and other similar conditions.
Likewise after a series of joint studies with the American Dental Association on infections in dental patients with orthopedic implants, the American Academy of Orthopedic Surgeons no longer recommends pretreatment for artificial joint patients. It's now left to the dentist and patient to determine whether antibiotics before a procedure is appropriate based on the patient's medical history. For example, premedication may still be prudent for joint replacement patients with compromised immune systems caused by systemic illnesses like cancer or diabetes.
Although the guidelines have narrowed, it's still important for you tell us about any heart condition you may have, or if you've undergone any type of joint replacement therapy. It's also advisable for you to discuss with your primary doctor how your condition might be impacted by any proposed or scheduled dental procedure. Our aim is to always minimize any risk to your overall health as we treat your dental needs.
If you would like more information on antibiotic treatment before dental procedures, please contact us or schedule an appointment for a consultation.
By Rockdale Dental Associates
April 17, 2014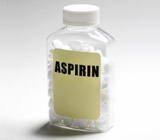 Acetylsalicylic acid (ASA), better known as aspirin, is an effective pain reliever and fever reducer. More recently, its anti-inflammatory properties have become part of the management of cardiovascular disease. But while regular use may benefit your general health, it could complicate your dental care.
Aspirin helps reduce inflammatory pain or fever by blocking the body's formation of prostaglandins, chemicals that contribute to inflammation after trauma or injury. It also prevents blood platelets from sticking and clumping together. While this can prolong normal bleeding and bruising, it also helps the blood move freely through narrowed or damaged blood vessels, which reduces the risk of heart attack or stroke in at-risk cardiovascular patients. Due to side effects from prolonged aspirin use like kidney damage, stomach bleeding, or ulceration, physicians normally prescribe a low aspirin dosage (81 milligrams) to minimize these effects.
Because of its effect on bleeding and clotting, it's important that every member of your healthcare team — including your dentist — knows how much and how often you take aspirin. The change it causes in your body's clotting mechanism may also affect how dental procedures are carried out; by knowing you take aspirin regularly we can take extra precautions to ensure your safety.
In fact, if you've been prescribed aspirin for a heart condition, you may be tempted to stop taking it before a dental procedure out of fear of profuse bleeding. This is highly unadvisable — the sudden discontinuation could increase your risk of heart attack, stroke or even death. You should only discontinue aspirin treatment at the direction of your prescribing physician.
Another aspirin-related effect may involve your gums and other soft tissues. You may notice gum tissue bleeding after brushing or flossing; while this is normally a sign of periodontal gum disease, it could also be the result of your aspirin therapy. The only way to know for sure is to schedule a visit with us to examine your gums.
When it comes to aspirin or other blood-related therapies, the key is to communicate your health status with us, including all medications you are taking. With that knowledge we can provide you with the most informed and safest dental care we can.
If you would like more information on the effects of aspirin on your dental care, please contact us or schedule an appointment for a consultation. You can also learn more about this topic by reading the Dear Doctor magazine article "Aspirin: Friend or Foe?"
Rockdale Dental Associates
Lisa M. Carvalho, DMD
499 Rockdale Ave
New Bedford
,
MA
02740
(508) 992-4608
| | |
| --- | --- |
| Monday: | 8am - 5pm |
| Tuesday: | 7am - 5pm |
| Thursday: | 8am - 5pm |
| Friday: | 7am - 5pm |